In Sparse Conv2d Implementation for 3x3 kernels, the conclusion has it that we can get speedup in all sparse rate, shown in pic below: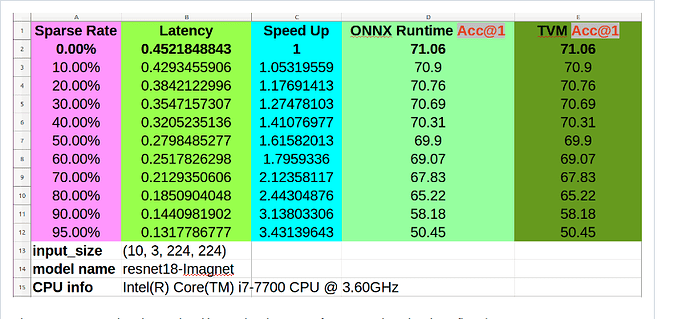 But I try it on my own simple model like this:
class LeNet(nn.Module):
    
    def __init__(self):
        super(LeNet, self).__init__()
        self.conv1 = nn.Conv2d(1, 1, 3, padding=1, bias=False)

    def forward(self, x):
        x = self.conv1(x)
        
        return x

my CPU info: Intel® Core™ i5-2500 CPU @ 3.30GHz
I do the transform below to turns it into nn.sparse_conv2d for 3*3 kernel:
newfunc = relay.data_dep_optimization.utils._run_opt_pass(
   mod,
   # layout, kernel_size, bsr_height, bsr_width, sparsity_threshold
   relay.transform._ffi_api.Conv2dToSparse2("NCHW", 3, 1, 1, 0.4)
)
sp_mod = tvm.ir.IRModule.from_expr(newfunc)

and I found that if I set input_size larger than (1,1,28,28), no matter how sparse I (randomly)prune the weight, the runtime of sparse_conv2d always larger than normal conv2d.
I trace the code to the part that do the sparse_conv2d for 3*3 kernel. It use the img2col method that create a big tensor to store weights of every step of convolution into it column by column, then do the matrix multiplaction with the kernel.
What makes me confuse is that if input_size get larger, the runtime spend on load and store the big tensor may also get larger, and will not be faster than original conv2d.
How does the result in Sparse Conv2d Implementation for 3x3 kernels still get speedup?
@comaniac I just finished listening to your speech in our seminar in NTHU, hopes that u can give me some advise or correction if i have any misunderstanding, thanks!