Hi Sirs,
I use TVM to compile the TFLITE model with CMSIS-NN. (CMSIS_5)
If don't use add & mul pass, everything is allright.
(as below picture)



But when using add & mul pass, we get the incorrect result.
We found some differences between using add & mul or not.
For example, below is part of the model.
If not using add & mul, the layers(Add / Quantize / Concatenation) would be integrated into one function (red box)
if using, the layers would be separated two functions (blue boxes)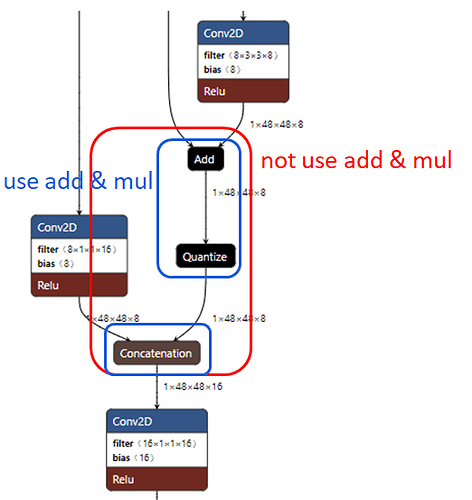 We compare the final output of blue boxes and red box, they should be the same (byte to bye).
But some of them are different, the difference is always 1 (like -88 and -89 or -127 and -126…etc),
Could you help this issue?
Thanks~~