Apache TVM.Next Discussion (TVM Unity)
To our community members,
Apache TVMCon, the open source ML acceleration conference, starts December 15th.
To foster discussion and engagement in advance of and at TVMcon, a subset of the PMC wanted to share both a technical and community vision evolved directly from your input on the challenges and potential of Apache TVM.
The vision, also known as TVM Unity, is motivated by a desire to create a virtuous circle that seamlessly interconnects and fosters greater collaboration among all the key stakeholders for TVM specifically and ML acceleration more generally: ML Researchers/Scientists, ML Engineers and Hardware Vendors (and their hardware and software teams).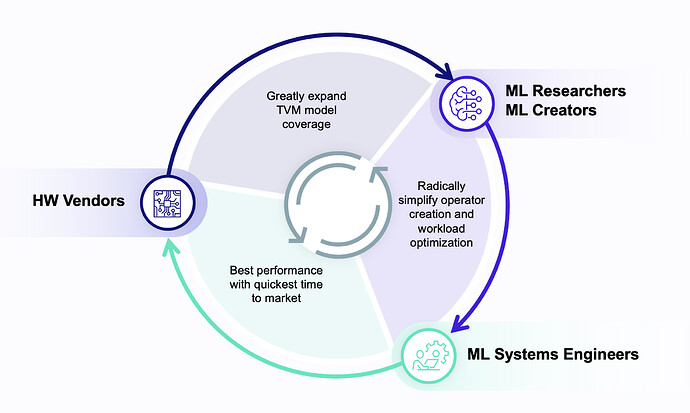 To achieve that vision, the TVM community needs to evolve our architecture and community.
The TVM Unity architectural vision in and of itself is designed to create a virtuous circle in terms of how various sub-systems of TVM interact and interface with each other.
Continuing to remove the boundaries between each layer and providing open interfaces has the potential to create a much greater surface area of collaboration for everyone in the ML acceleration community.
It is also important to note that elements of the TVM Unity vision are actively being developed within the community today; just one example would be auto-tensorization.
We, the authors, will share a more detailed outline of the vision following this brief introduction.
As you read through the vision, the TVM PMC members would appreciate you engaging in the below ways:
Please share what aspect of the Unity vision will be most useful to you in your role in the community and in your organization.
Please sign up to attend the TVMcon Day One keynote where Tianqi Chen, Jared Roesch and Denise Kutnick will share an initial version of the TVM Unity technical and community vision.
Please also share with us your questions as well; we can address them for you both in the keynote and in the TVM Unity Community Session scheduled directly following the opening session at 12:45 PST on 12/16. See the offical schedule for more details.
The goal of the below document is to kick off a conversation that starts today, will carry into TVMcon and continue into the new year.
Thanks to the many folks who provided valuable input in constructing this document.