Thanks everyone for the discussion so far. We have already got a lot of information about the goals and possible intentions of the design. One thing is pretty clear that the particular choice of data structure does have a decent impact in a few areas.
Before suggesting a concrete choice, I would like us to pop up a level and think about the hidden message about this discussion – How should TVM compilation pipeline, or compilation pipelines(assuming there are many kinds of them) be "configured".
To help clarify the question I draw the following diagrams. A generic flow in TVM can be roughly summarized in the following picture:
We start with an IRModule(modA), possibly already been optimized by user or some previous passes
We run a set of transformations passes on modA to get modB
We then generate rt.Module from modB, in order to get it running on a specific platform in mind(e.g. a specific board).
We can find that there are roughly three kinds of "config-like" options appearing in this flow and that can affect the final outcome.
A0: The specific options used in transformation(e.g. How aggressive we want to inline)
A1: The build "constraints" of the platform of interest, this can be the instruction set(x86 or ARM), or runtime constraints(crt, packed-api vs unpacked-api).
A2: Within the IRModule itself, there can be additional constraints on existing functions. Imagine that a previous pass/user decided to optimize my_func on nVidia GPU, and have already generated a call to my_func via CUDA runtime API. Then follow up optimizations will need to respect that "constraint".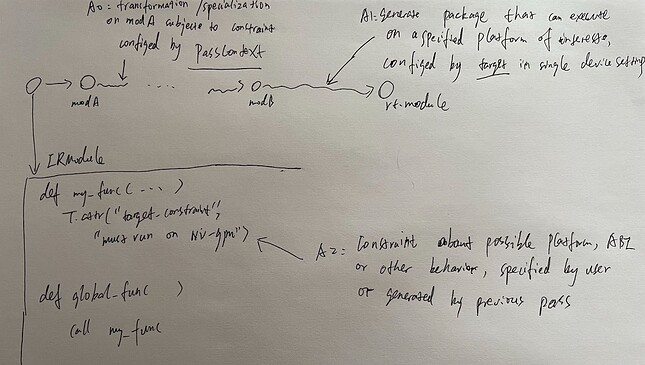 To some extent, each of these A are somewhat inter-correlated with each other. For example, if we have a final platform constraint that does not support a vector unit, then it means that we will need to disable vectorization.
Nevertheless there are still two very distinct types of configuration here:
C0: In the case of A0: we are mainly interested in "how", aka procedurally what we do with the program. In many cases, regardless of the transformations(e.g. inlining), the final outcome can run on the platform of interest.
C1: In the case of A1 and A2, we are declaring "constraints" imposed by the final platforms of interest(e.g. must have a vector unit, must use unpacked ABI). These constraints information do not dictate "how" we run the optimization, but can provide additional information for certain specializations.
The distinction of the two types are really important here. Coming back to the general goal of TVM. We want to enable composable optimizations of programs. Sometimes this can mean that some previous stages of program transformations are done by another developer, then feed into follow up stages.
C1 type config is something that we usually want to preserve as part of IR or log. For example, BYOC pre-decided that a certain function should be transformed to run on CUDA, then its caller must know that constraint and call using cuda runtime API. Such constraints need to be reflected as part of the IR(aka IRModule) itself, so that followup passes can respect and make use of such information.
C0 type config, however, does not need to appear in the IR(or intermediate data structure of interest). Imagine that we choose to separately inline my_func before handing over the current pipeline. Because the transformation is already done, followup transformations do not need to know this information as the IRModule itself after transformation is already self-contained.
Some of the discussions here started from a single monolithic pipeline, it indeed can be very tempting to consolidate everything into one configuration of interest under that scenario only. I would encourage us to look broadly into the composability perspective of it. Since composability is the key to encourage collaboration without putting too many restrictions about pinning all details about a pipeline. Some of the discussions also touch on this perspective. A very natural consequence of reasoning here is that we need to distinguish C0 and C1 type configurations (Folding pass context config into the whole config as result might go against this principle) in the foundamental level. Of course this does not pre-clude use to create an unified option interface(e.g. at the tvmc level), just at the level of the composational optimizations and things that we will put into the IRModule, we need such separation.
Another related topic is whether or not C1 type configurations can benefit from future dissection/clarification, or if there is enough common ground here to have a consistent branding.